As of right now, there are no plans to produce native "podcasts" of the cyberJAMZ downloads shows becase our server scheme natively produces Windows Media Format files (asf, wma, wmv). There is, to my knowlege, no automated system that can convert these files to the needed MP3 format suitible for "podcasts" and then create the RSS feed that will allow one to subscribe to the feed(s). For now, we shall explore options that allow us to import our downloaded shows to iPods via free tools available at Microsoft.
You will need to download the free Windows Media Encoder 9 located here:
http://cyberjamz.com/WMEncoder.exe
Choose:
- Windows Media Encoder
- Windows Media Encoder 9 Series
- Note: For better performance on a Windows Vista-based computer, see
article 929182 in the Microsoft Knowledge Base
.
Download and install. Once downloaded and installed, you will see the following options in your Program Folders: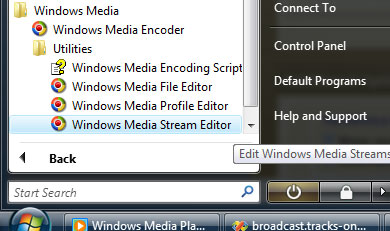 What you are looking for here is the "Windows Media Stream Editor" located in:
| Program Files | Windows Media | Utilities |
If you see it, then you've installed it successfully. Please refer to the Microsoft site for additional information or help in installing the Media Encoder if you're having problems.
Now, login to your cyberJAMZ download account, if you don't have one,
please subscribe
for USD $10.99/month (
note: not the same as a forum registration
). The login area is loacated in the center column and at the upper right of the
archive page
: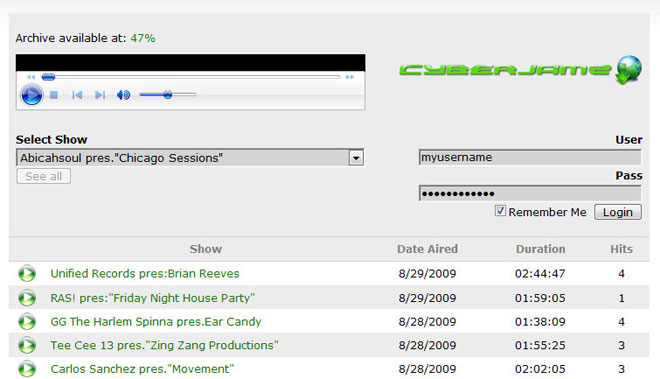 Once logged in, you'll see the following: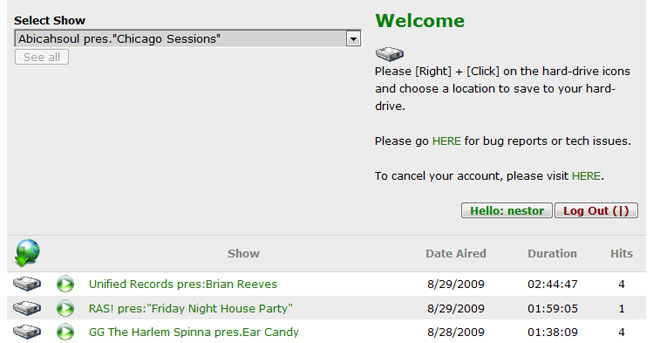 Select a link by choosing a hardrive icon

and right clicking on it to show the pop-up menu: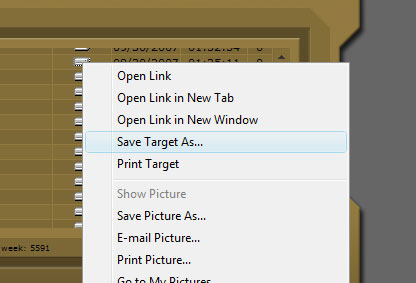 Select location on your computer to save, for this example, we'll use our desktop but this can be any location viewable to your computer: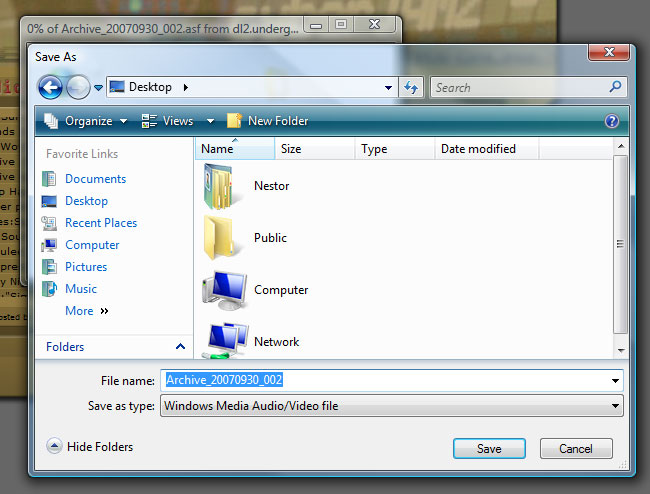 Transfer in progress: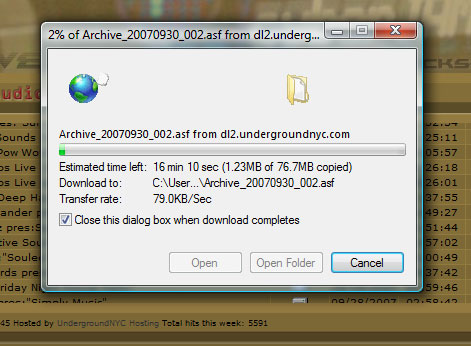 Once download is complete, you sould see it where you saved it to: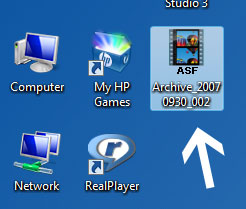 Now, fire up the Windows Media Stream Editor in the location above: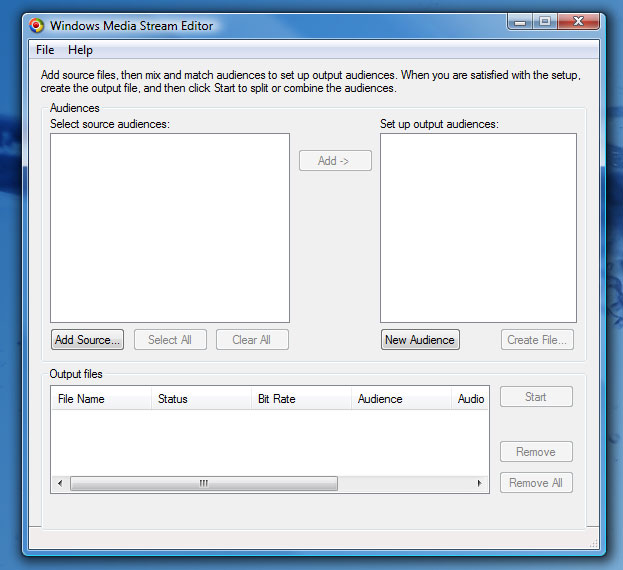 Open the saved file (hit the "Add Srouce" button):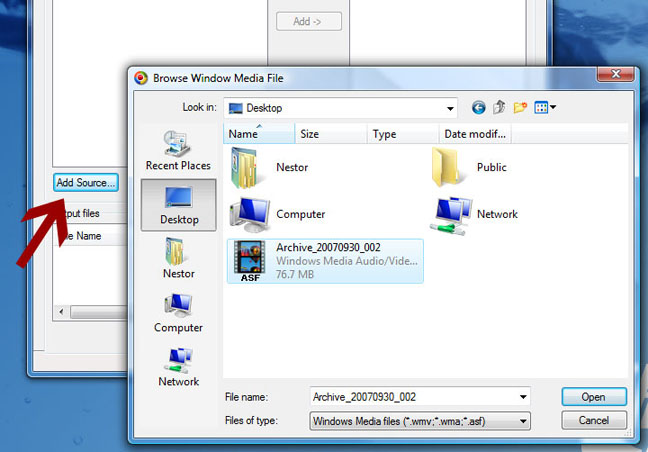 Select the highest audio bit rate, in this case, it's the 70kbps as indicated by the arrows. Because of varying broadcaster settings, these will be slightly differrent from show to show. Some are lower and range from 34kbps all the way up to 128kbps. The optimal is 70kpbs (comparable to a 128kbps MP3).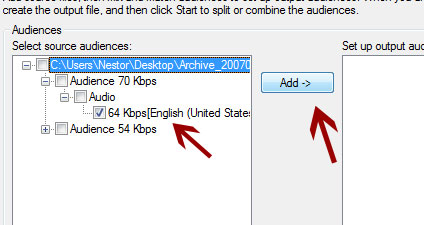 Hit the "Create File" dialog and choose a new file name and location to save to. In this example, I choose the desktop and selected name 'my-convert-1' (type whatever you want however) and the file will be saved in WMA format. Choose a very descriptive name for easier identification and when the file is finally in the iTunes library. Hit the save button: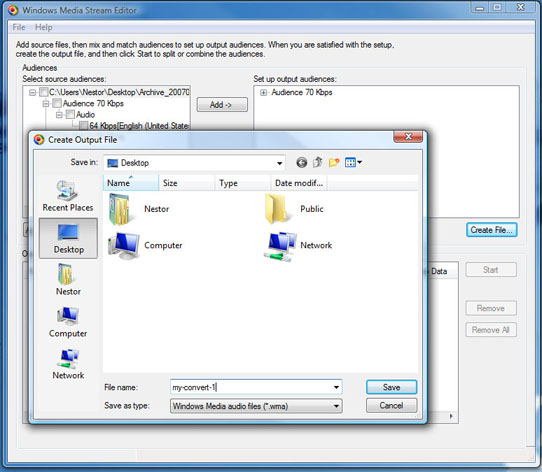 Now hit the "Start" button and conversion now takes place:
Now you'll have a "WMA" file that you can convert in iTunes and then transfer to your iPod!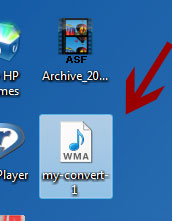 Simply drag the new "WMA" file into your iTunes library: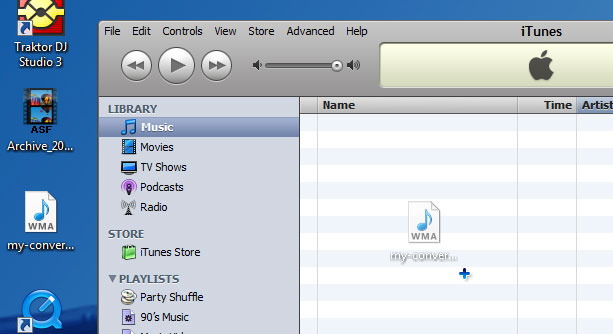 Choose to "convert" to AAC (M4A)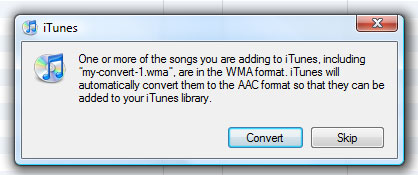 File will convert:

You are now ready to transfer to your iPod:
You can now discard the two source files (ASF & WMA) but remember, these shows are replaced by new shows every week so if you're sure you won't be needing the file again, it will be safe to delete. If not, keep them in a location you can find them later. Again, shows cannot be restored once removed from the archive server.
The reason why the server creates "ASF" or "Advanced Stream Format" files is that these files usually have more than one bitrate and or contain video. To keep the formats uniform, it creates a "wrapper" ASF file that can then be extracted using the Stream Editor.
Any questions, please reply here.
Thanks,
Techy
cyberJAMZ Technical Coordinator