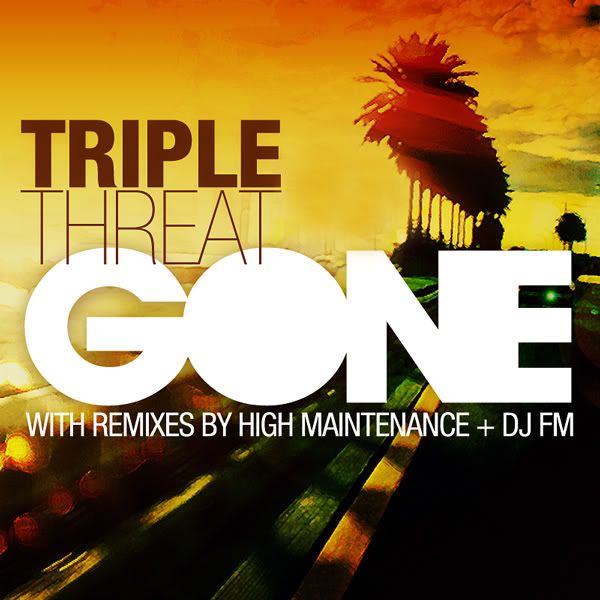 Story of the Song - The main riff was laying around for a while and being worked as a downtempo track. Late one night the Triple Threat got a feeling for the rhythm and busted out the bass guitar. A funky bass line flowed and the whole thing was Gone - in a new direction but with a hot vibe. Darren's popped and slapped bass was added with a Jimmy Smith style organ vibe played by C and it feel together - Gone like the a.m. happening! High Maintenance www.myspace.com/juicedmusic1 and DJ FM http://www.djfm.com/index.html were hit up for remixes, each providing their style's take on the groove and a Gone EP was born.
Get it Now at:
www.traxsource.com/3345_music
www.junodownload.com/labels/3345+Music/releases/
www.beatsdigital.com/label/3345music
www.stompy.com/Label/3345
and
www.djtunes.com/label/3345-music
FOR A LIMITED TIME get your choice of a previously released 3345 Music track FOR FREE! Buy the whole Triple Threat - Gone release right now and forward your electronic purchase receipt to info@3345music.com and tell us which mix from our previous releases you want. We will send you a download link for wav file of the track you select to the email address on the receipt. (This offer is not affiliated with any distributor).
Register at www.3345Music.com/contact.html for more free music.
Look for 3345 Music in Our House Magazine
http://www.ourhousemag.com
. Hit us up for booking, remixing and licensing info for 3345 Music artists and producers.
Check us out at:
www.3345music.com
www.myspace/com/ttffmusic
http://www.facebook.com/home.php#/pa...ic/56127877766
www.beta.play.fm/label/3345music
www.like.com/artist/3345+Music
www.last.fm/3345Music
www.youtube.com/user/3345Music
follow us on
www.twitter.com3345Music
and get gear at
www.cafepress.com/3345music
ALSO OUT NOW
3345 Music Presents Crate Sessions Vol. 1 & - a compilation mixed by legendary Dallas DJ Joe Castillo
http://www.facebook.com/pages/3345-M...793878&ref=sgm
featuring the pre-release debut of
Castillo & Face feat. Jennifer Perryman - Funky Little Dots with Alexander East remix
www.planeteastmusic.com
and other great tracks from Cristiano Viviano
www.myspace.com/mazoomlab
, J. Caprice
http://www.facebook.com/pages/3345-M...760791&ref=sgm
, Midwest Hustle Music
www.myspace.com/midwesthustlemusic
, Short Bus Kids
www.bouncehouserecordings.com
, The Groove Lab
www.thegroovelab.info/html/news.php
, Tri Circle Reordings
www.myspace.com/tricirclerecordings.com
, Loco Records
www.loco-records.com
and remixes by Ralf GUM
www.gogo-music.net
, Lewis Ferrier
www.lewisferrier.com
, Nacho Marco and more! A spin around some of the most exciting house, jazzy to tech, from around the globe straight into your soul. Available as a mixset or individual tracks.
AND
Jennifer Perryman - Wake UP - Ralf GUM Vocal Edit out now on Itunes and
www.youtube.com/user/3345Music
!
Coming Soon:
Castillo and Face feat. Jennifer Perryman - Funky Little Dots Remix EP with remixes by Alexander East, ill castle, Intensity of Sound and 3C
Dethide -Lost in Daydream with special secret remixes
Grooveblaster - the coolest thing we've heard lately - an amazing downtempo track called Angie Dickinson
Intensity of Sound feat. Kim Bennett - Deeper Meaning
Moodswinger - Remixes EP
Gregory Del Piero – TBA
AND 3345 Music presents Joe Castillo Wednesday's on
www.radio.myhouse-yourhouse.net
.