>>>>>>>>>>>>>>>>>>>>>>>>>>>>>>>>>>>>>>>>>>>>>>>>>>>>>>>>>>>>
PRE-ORDER
It Seems To Hang On -
Steal Vybe, Chris Forman ,Damon Bennett, Stephanie Ren?e, Chris Dockins on>>>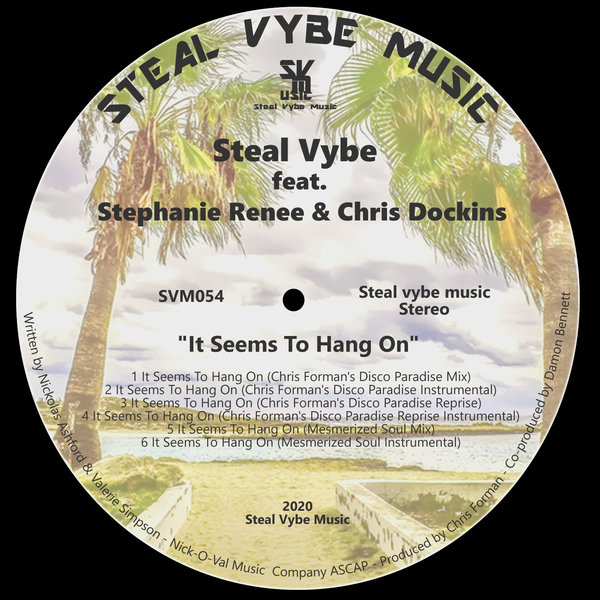 Soulful House$2.49
Steal Vybe, with featured vocalists Stephanie Renee and Chris Dockins, revises the beloved soul classic It Seems to Hang On, written by one of the greatest singer/songwriter duos of all time, Ashford & Simpson. This crafted disco anthem is filled with colorful riffs and melodies that will give you chills all through your spirit, while the funky bass and guitar set the mood for rest of the arrangement. It's packed with Piano, Rhodes, Synths & other funky things that will connect you and the music. Become one with us. Come explore, as we take your mind, body & soul on an unexpected adventure.
Journey with us!
Credits:
Lead & Background Vocals performed by Stephanie Renee & Chris Dockins
Written by Nickolas Ashford & Valerie Simpson
All keyboards, synth, bass, percussion and drum arrangements played and produced by Chris Forman, co-produced by Damon Bennett for Steal Vybe.
Lead & Rhythm Guitar by Harry Wilson.
Bass Guitar by Charles Baldwin
Horns by Leon Jordan
Publishing: Nick-O-Val- Music Company ASCAP