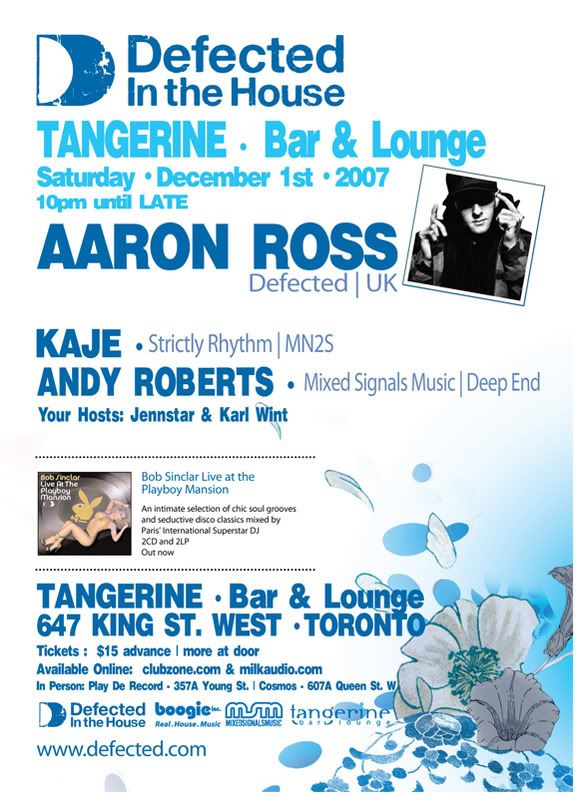 PLEASE NOTE THE CHANGE OF VENUE!
TANGERINE • Bar & Lounge •
647 King Street West • Toronto
To purchase tickets online • Click images or links below
Online •
Clubzone
Online •
MilkAudio
In Person • Play De Record - 357A Yonge St. | Cosmos - 607A Queen St.
RSVP •
Facebook
ABOUT THE ARTIST
•
Aaron Ross Bio
ABOUT THE VENUE
• Due to circumstances beyond our control, this event will no longer be held at the Church Street Bar. The event has been moved to TANGERINE located at 647 King Street West at Bathurst. To create the proper atmosphere at Tangerine, we will be going all out for this event. The lights will be low to keep it nice and dark and the sound system upgraded to ensure the beats are thumping and the music comes through crisp and clear.
Don't sleep on this event Toronto because
Defected is IN THE HOUSE!
MORE INFO •
Defected In the House
|
Aaron Ross Website
|
Kaje Website
|
Mixed Signals Music
|
Boogie Inc.
Click for PROMO VIDEO!