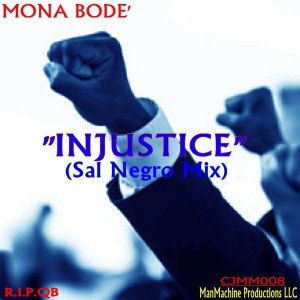 Hot but Serious Release Alert:
?Injustice? ? Mona Bode (Sal Negro Mix) ? ManMachine Productions Records ? #R.I.P.QB <3
All I can say is WOW.. I mean .. WOW!! Mona Bode has done it again with this serious joint entitled "Injustice". The story-line takes us through issues going on today with all the injustices of this country and the World. The lyrics are all too familiar when you listen to them and the production work by Sal Negro is really on point.
It's great to hear Sal back after a hiatus from the scene.Trust... .he delivers one of his best pieces since he took some time off.This joint takes off where he left off and Mona is brilliant.
coming in 2 weeks to ManMachine Productions LLC Recordings.