WIL MILTON & THE GRAVITY(NYC) family is at it again, and we are inviting you home. GRAVITY(NYC) has such an amazing story to tell you, and it's all about you. All under one roof, you have a powerful DJ, your residence DJ WIL MILTON, and will give you nothing less than quality music. Our GRAVITY(NYC) host and team will provide you with some of the best quality service when you enter your/our home. The Venue SAPPHIRE is a beautiful club, located in THE LOWER EAST SIDE of MANHATTAN, and with a monster sound system. You will share the dance floor with some of the greatest and funkiest dancers around the world. And most of all it's all about you. You are the subject matter GRAVITY(NYC) is your party, which means you are the star of the show. GRAVITY(NYC), at it's three year running, owes it all to you, and we are gonna continue just for you. On December 9, 2007, we open our doors to you, with the blissful sounds of international DJ WIL MILTON.
There is an awesome line-up for you at GRAVITY(NYC). We invite you to GRAVITY(NYC) on SUNDAY DECEMBER 9, 2007, as we celebrate the success of GRAVITY's very own resident DJ WIL MILTON, and co-founder RODNEY CARTER. The duo has just released their new single on BLAK INK MUSIC GROUP entitled "TEMPLE". TEMPLE is the follow up song to their hit recording "DON"T LET GO".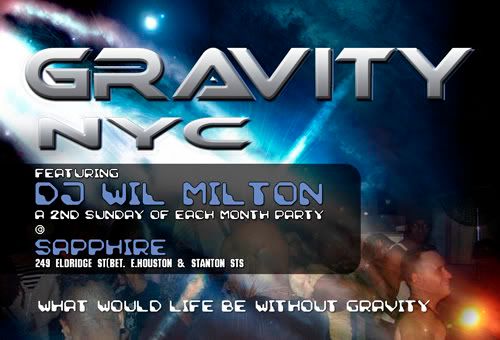 TEMPLE is such an amazing composition; creatively touched by WIL & RODNEY'S unique songwriting techniques. The two has been in studio recording religiously night and day, so that they can share with the world the gift of music. We would like for you to get to know these awesome songwriters, engage in their music, their voice, their acquired songwriting skills, and most of all, the heartfelt performance on SUNDAY DECEMBER 9, 2007. (SHOWTIME 11PM)
LISTEN to TEMPLE HERE
We will also be celebrating the birthday of MR. RODNEY CARTER, and GRAVITY"S Core member MAHAZI ROUNDTREE. MAHAZI is such a free-spirited individual, and has made a major contribution towards GRAVITY(NYC) Last but not least, the magical sounds of your resident DJ WIL MILTON. Wil has the goodies in stored for all you dancers, and club life participants.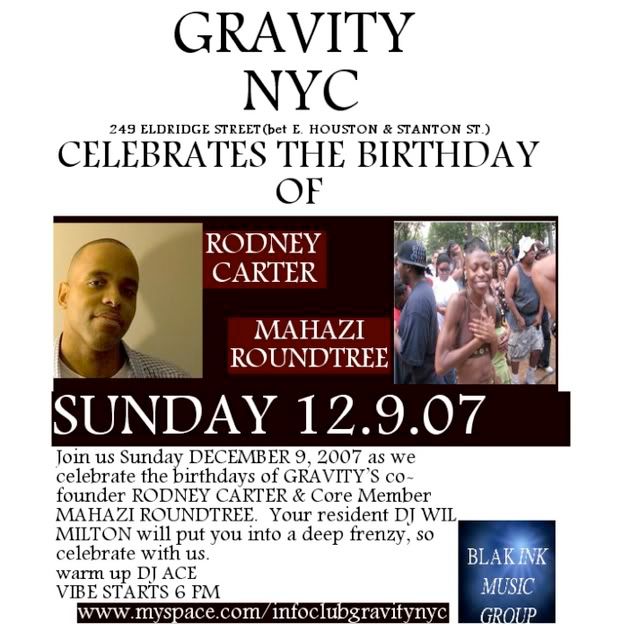 GRAVITY is one of NEW YORK CITY's leading branded source of providing quality services to our nightlife community. Join us, as we serve you GRASSROOTS STYLE
Event: GRAVITY(NYC)
Venue: SAPPHIRE
Address: 249 ELDRIDGE STREET(bet east, houston and stanton st)
Date: DECEMBER 9, 2007
Time 6pm-2am
Opening set by DJ ACE