When we think of GRAVITY(NYC), we think of the direction our past leaders set path for us to follow, which is to progressively do what we believe in, and to also join hands with a similar vision. One of GRAVITY(NYC)'s successes has been due to that fact that we operate under that grassroots handbook, similar community formation styles of our important leaders. For this, we never saw GRAVITY(NYC) as a means of making money, but creating cash flow to put back into these GRAVITY(NYC) events so that all would have a place to socialize, and be un-restricted of a dance
GRAVITY(NYC) has decided to participate with this year's DANCE PARADE '08. With this, we are reaching out to all of our GRAVITY(NYC) members, participants, dancers, songwriters, DJ's, promoters, company executives, to take a stand with us, by marching with GRAVITY(NYC) Saturday May 17, 2008 from 1pm-4pm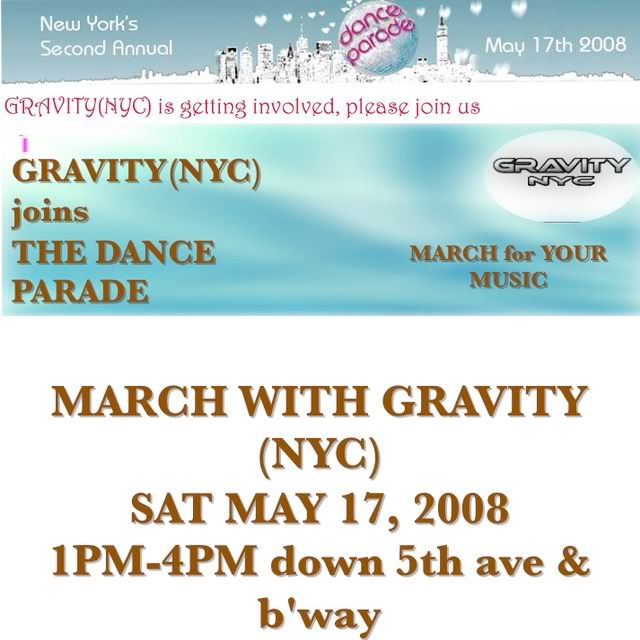 The main purpose of this march is to raise an awareness of all the city politicians', and lawmakers about our dance community. In order to for us to have a social voice, we must stand up now and march. Here is more information on THE DANCE PARADE.
PLEASE CLICK HERE
The Parade will kick off at 1pm. Then we will march down Broadway, past Union Square and into University Place. At 8th Street, we'll end at Tompkins Square Park.
Marching in the DANCE PARADE cost $100. However, we have covered everyone's cost, which means marching with GRAVITY(NYC) will cost you nothing, but simply just marching with us.
Show the world that you are to let them match the name to the face. Also, let them know that you are on the frontlines for this dance community
Please join WIL MILTON, RODNEY CARTER,CINDY HARDEN, COCO, DJ ACE HOUSE NATION as walk in harmony
If YOU ARE INTERESTED, please reply, also with a contact number. Thanks
All marchers of GRAVITY(NYC) will meet on 27th STREET & 5th AVENUE at 12:30pm on the day of the march
Sincerely
GRAVITY(NYC)