BLAK INK MUSIC GROUP 2009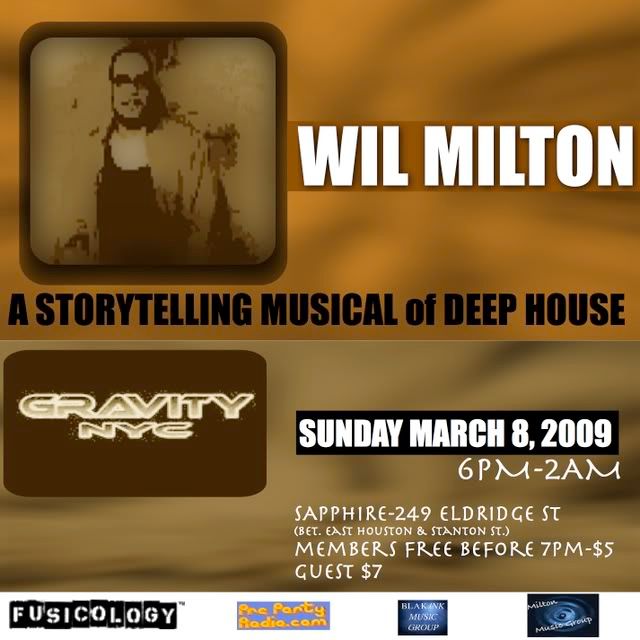 Gravity(NYC) is attracting some of the worlds most intimate, highly dedicated participants of music, at this 2nd Sunday of each month event. Our membership-based event held at Sapphire 249 Eldridge Street in Manhattan, dedicates its entire services to ensure that every one person acquires a true dance experience. What's more, we also encourage our guest to become active Gravity(NYC) members, to be part of this grassroots movement, and to be the voices of what we are all speaking of at this monthly event.
Experience what we provide, which is a trust-worthy, affordable event, with resident DJ Wil Milton, who will offer you optimal dance music (aka Deep House) on Sunday March 8, 2009. Sapphire 249 Eldridge Street 6PM-2AM.
We are strong believers of giving you none other than excellence, each and every time you walk through our doors. We do this because you matter. A few of our many goals are well concentrated around keeping you happy, ensuring that your interest with us is at its continuum, maintaining our dance community, and to assist its moving forward. We strive to provide you with quality, which includes deliverance to the masses.
There is nothing more than to see people coming together, under one room, moving to the same rhythm. We hope that you will attend our event on March 8, 2009, and that our branding will be part your daily conversation.
Thank You
Janice Mendez-Gravity(NYC)
Gravity(NYC) feat Wil Milton
Sunday March 8, 2009
6pm-2am
Sapphire-249 Eldridge Street (bet. East Houston & Stanton St)
Gravity Members Free Before 7pm-$5/ Guest $7
http://www.myspace.com/infoclubgravity