Blak Ink Music Group 2010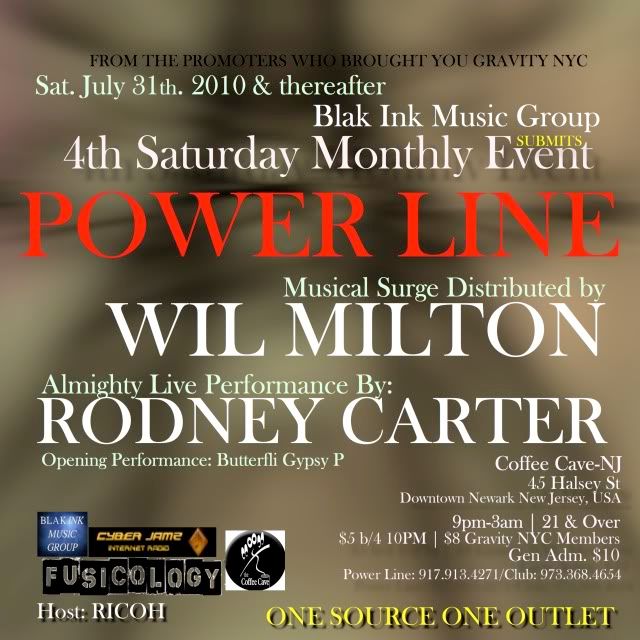 Wil Milton and Rodney Carter introduce a new prime-time event called Power Line to Newark's trendy Coffee Cave. Milton brings his international flavor and unmistakable musical styling to New Jersey. We invite you to an event that combines soulful, sultry sounds with the comfort and charm of a venue that's been designed for the enjoyment of music. You no longer have to imagine what it would be like to have a deeply soulful experience in an enclosed air-conditioned oasis. That event is Power Line, and the venue is Coffee Cave. Power Line, share our energy…..
Rodney Carter Performs Hit from Wil Milton & Rodney Carter "Recarnation" Album
"CLICK HERE LISTEN | BUY RECARNATION"
Buterfli Gypsy P Performs Club Anthem "Gypsy Love"
"CLICK HERE LISTEN | BUY GYPSY LOVE"
Showtime 11PM
Event: Power Line
Happenings: Saturday July 31st, 2010, Every 4th Saturday Thereafter
Time: 9PM-3AM
Venue-Coffee Cave NJ
Address: 45 Halsey Street (Downtown Newark, New Jersey) USA
Musical Surge Distributed By-Wil Milton
Almighty Live Performance By: Rodney Carter & Butterfli Gypsy P (Blak Ink Music Group Recording Artist)
Host: RICOH
Admission-General Admission $10 | $5 Before 10PM | $8 for Gravity NYC Members w\ Card
Power Line: 917.913.4271 | Club 973.368.4654