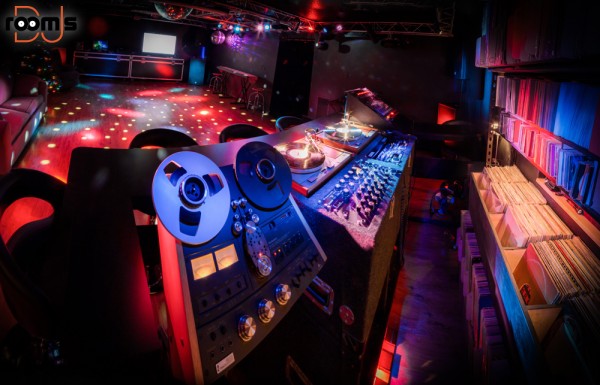 Joey is not only a personal friend of mine but an awesome person and designer and this Dj Heaven is where is at ! Can?t wait to have a moment to stop by the house and experience the music ! Great work Joey !
Read full article here:
http://www.dj-rooms.com/joey-madonia...omment-1157529
Ever thought of building your own club in the basement having a good time with your friends? Joey Madonia from Florida did so and made his dream come true with this overwhelming DJ room inside of his house. As a Disco pioneer from the 70′s and Light & Sound Technician, he was responsible for many installations in some of the most popular clubs in New York and Florida. Joey has worked together with Larry Levan, & Michael Brody (Paradise Garage) and had close association with Richard Long and performed side by side with many big names in the House and Disco scene during the past 40 years. In 2013 he put everything together using his 30 years of work experience and 40 years of knowledge to buidt the perfect and unique club room. It took him 7 months to built his very own ?DJ Heaven?. We are really proud to share these wonderful pictures of the buildup process and the finished room with you. And of course we had a really detailed interview with Joey for this project. Is this THE ultimative DJ room?
Hello Joey,
thank you for your time and effort to realize an article about one of the biggest projects in your life here on DJ rooms. As many of our contributors, you posted a picture of your room on our facebook wall. We first couldn?t believe that this is a room inside of your house and not a well known club in one of the big cities. Can you introduce yourself to our readers?
I was born in Brooklyn New York. The first club I went to was special, not only because it was my first, but it was coincidentally the best example of what was to be the standard of this thing where a DJ played on two turntables in his own separated space (The Dj Booth) with a dance floor, sound system & light show. The club was called ?The Sanctuary?, starring the father of the mix himself, DJ Francis Grosso. This club inspired me to start my record collecting. Before long, I had every record the DJ played in my collection. Having all this music, I would not want anyone to handle my records fearing they would scratch them. Back in the 70′s, the records that were being played where very rear and very difficult to find. I was the only one to play them when the time came for a party.
I must have went to almost every club in Manhattan, Brooklyn, Queens, New Jersey, and wherever I heard of a club that was worth going to. By 1972 I decided to take up DJ?ing professionally. Between Dj-ing and going to all the clubs, especially the underground clubs such as ?The Loft?, ?The Gallery?, Richard Long?s ?Soho Place?, Reed Street? (Where I met Larry Levan), and working in the booth with Larry Levan as Light & Sound Technician, I was able to accumulate an arsenal of knowledge on sound & lighting. In 1977 I moved to Ft. Lauderdale Florida. Michael Brody was about to open the Paradise Garage, Larry asked me to be his Lighting & Sound Technician in 1978 and I excepted. Again in 1981 Larry asked me to return to the position of # 2 in the booth as Light & Sound Technician. After feeling it was time to move on again, I was on my way back to Florida for good. I continued to DJ in many clubs in cities all over Florida, Miami, Ft. Lauderdale, and Palm Beach. During my DJ career, I always knew who were the Sound & Lighting companies building the clubs or, supplying the equipment, whether in New York or Florida. I had the privilege to be close friends with the late Richard Long, Alex Rosner, Robert Lobi & Frank Dinges of Design Circuit Inc. These individuals were responsible for all the major clubs during the 70′s & 80′s. In Ft Lauderdale Florida while in between DJ jobs, I met Tommy Mannino of TM Sound & Lighting, I asked Tommy if I could work with him until I got my next gig, I liked it so much I stayed fulltime & DJ?ed nights.
This man was not only installing Sound & Lighting in just about every club in town, he was a master carpenter, he did metal fabricating, video installation and speaker reconing, he also did custom electrical for Sound, Lighting & video systems. Tommy (TM Sound) was already an established company, I was able at times to contribute the New York Sound & lighting experience, and on occasion, Tommy & I created some great things together. All the things I loved over the many years from being in clubs, all of a sudden were possible for me to create on my own, because of my education at TM Sound & Lighting on how to manufacture & install Sound, lighting, Video, and, custom wood & metal fabrication. I became Tommy's right hand man & chief installer and fabricator, and did it all for a period of 15 years, I friggin loved it. I finally found my place in life. I also became an Electrician and apprenticed for several electrical contractors in between. I left TM Soun. In 1999 and opened my own business called ?Custom Made Systems Inc.