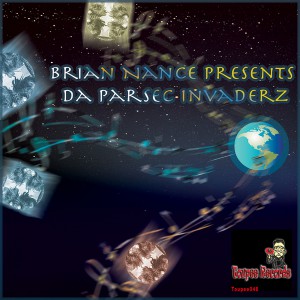 Cat#TOUPEE046
Release

a Parsec Invaders 2 E.P
Artist: Brian Nance
out now
http://bit.ly/2eie583
Da Parsec Invaders E.P ? Brian Nance
This producer is dope and is about to unleash a serious of E.P?s both on Cyberjamz and Toupee Recs before the year is out. This 12 track monstrous package is simply off the freekin hook ! Each track holds it?s own and it?s difficult to choose just one favorite. I added a * to a few of my favorites but all the tracks are sick in their own right.
If deep and soulful with a touch of afro and tech combined is what ya need.. then look no further than Da Parsec Invaders E.P is gonna be right for you and your dancers !
Tracklist:
1)Chopped Sax Track (6:48)
2)Dubby Plate Special -1 (7:04) **
3)Deep Intuisionz(Revibe) (7:17)
4)Feelingz(He?s Gone Good) (6:44)**
5)Get Down(7:19)
6)Last Night-2 (5:45)
7)Straight to Da Head (Zooted) (7:01)
8)Take me Higher (7:13)
9)TecEmotionz (7:12) **
10)Tech Under (7:01)
11)Da Suspicionz (Somebody) It Up (7:01) **
12)Upside Down (7:08)
13)Come Together (7:18)**
all tracks produced by Brian Nance.
copyright: NANCE BRIAN ELLIOTT (BMI) 2016.
Cover Art Design by Garnetjade ?
garnetjade@gmail.com
Pick up ?Dark Sunz Movement E.P?
http://bit.ly/2aeSqyM
release tomorrow at traxsource.com?I have Never? ? Dosell ( The Brian Nance Deeper Dubs)