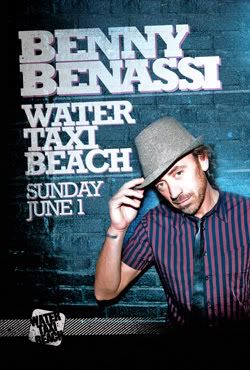 Sunday June 1st
Robpromotions & Benny Soto present...
Beach.Here.Now. @ Water Taxi Beach!
Music by
Benny Benassi
www.myspace.com/benassi
|
www.bennybenassi.com
Doors open 1pm- 10pm
21+ with ID only. Rain or shine
Water Taxi Beach
2 Borden Ave, Long Island City, NY 11101
www.watertaxibeach.com
|
www.nywatertaxi.com
|
www.danceherenownyc.com/wtb
Advance tickets available at
www.danceherenownyc.com/wtb
.
Check back regularly for booking updates.
By subway: Take the 7 to Vernon/Jackson, the G to 21st, or the E/F to 23rd/Ely. By Water Taxi: Shuttles leave from East 34th. Check
www.nywatertaxi.com
for schedules.
FOR ALL MEDIA INQUIRIES PLEASE CONTACT
INFO@DANCEHERENOWNYC.COM

Beach.Here.Now.
Rob Fernandez and Benny Soto Bring Their Award-Winning Party Style To Long Island City
Sundays At Water Taxi Beach Kick Off April 27
New York, N.Y. – Hamptons Schmamptons. Jones? Groans...
The beach of dreams for music-loving New Yorkers this summer is Water Taxi Beach.
With sand, river views, and the towering skyline of Manhattan making the scene uniquely urban, Water Taxi Beach revolutionizes the summer social experience for city dwellers. Now, the city's top party purveyors are making it a magnet for great music too.
Promoters Rob Fernandez and Benny Soto bring their award-winning Cielo party Dance.Here.Now. to Long Island City, Queens with Beach.Here.Now. Sundays at Water Taxi Beach, a weekly series of DJ-driven day parties running April 27 – June 29, 1pm to 10pm.
The calendar runs the gamut from stellar New York locals (Angel Moraes, Tedd Patterson and more on April 27), to electro-rocking Grammy winners (Benny Benassi, June 1), to smooth San Fran house superstars (Miguel Migs, June 29). And in recognition of Long Island City's bustling artistic community (there are four art spaces within walking distance of the Beach, including the SculptureCenter and Fisher Landau Center For Art), local artists will also perform at every event, creating live art and displaying their latest work.
Three minutes from midtown and steps from P.S.1, Water Taxi Beach is a central venue in the burgeoning Long Island City scene. With DJs, artists, and promoters moving to LIC in droves, the area is ready for a cultural explosion. Where better to spend your Sundays this summer?
About Rob & Benny
Currently Director of Booking & Promotions for monster Hell's Kitchen superclub Pacha New York, Rob Fernandez is responsible for some of the most beloved DJ-focused parties in New York nightlife history, including Danny Tenaglia's Be Yourself and Erick Morillo's Subliminal Sessions. Cielo manager Benny Soto also promotes 718 Sessions, a monthly with DJ Danny Krivit, known locally as the heir apparent to dearly departed deep house party Body & Soul.
About Water Taxi Beach
Water Taxi Beach is a public/private partnership run by New York Water Taxi. Located in Long Island City, Queens directly across the river from the United Nations, this 44,000-square-foot urban beach boasts incredible views of Manhattan, music, all-American cuisine and drinks.
Members of the press are invited to join the family at Water Taxi Beach for any of these nights. Please contact
info@danceherenownyc.com
for guest list. Interviews with Rob Fernandez, Benny Soto and any of the guest DJs are available.