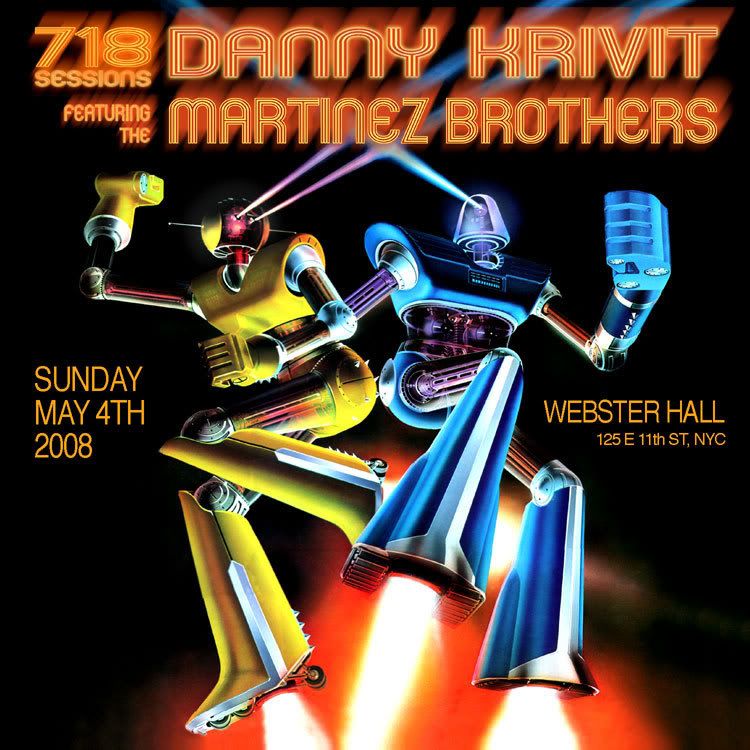 Sunday, May 4th, 2008
Benny & Cabiria Present...
DANNY KRIVIT & THE MARTINEZ BROTHERS
Back To Rock The House... On A truly incredible new sound system! by Integral Sound
@ Webster Hall 125 11th St. NYC -
Www.websterhall.com
On Lights - Ariel
The Vibe Starts @ 6pm Til 12 Midnight-ish,
Amazingly Still Only $5 Bucks!!! (For The First 100 People Before 7PM)
After 7PM, $12 With Membership Or Flyer, $20 Without
For The Second Year In A Row,
WINNER OF THE UNDAGROUND ARCHIVES CHOICE AWARD
FOR "New York's Best Monthly Party"!!!
You're not a 718 SESSIONS member yet, how come?
It's FREE!!! & It's Easy! & without it, your gonna miss out on all kinds of membership only things, like... May 4th @ Webster Hall, 718 Sessions members will receive a Traxsouce.com $5 voucher good towards digital downloads. Not to mention saving $8 Bucks off the admission price!!! besides that, it's our small way of letting you know, You're an important part of our 718 Sessions family, so please don't miss out any longer. They're limited, 1st come, 1st serve, so please don't delay! To save time, non members can fill out this info form below & send it back to
krivitd@aol.com
. If already a member, don't bother filling out the info again, just show your old card to Marianne @ the 718 Sessions Store & she'll give you a new one
Name _____________________________________
E-mail Address_____________________________
Street Address_____________________________
__________________________________________
Phone # ______________________________
For more info
info Line: 212-978-8869
or e-mail -
THE718SESSIONS@aol.com
Www.dannykrivit.net
www.myspace.com/themartinezbros
www.objektivity.com
www.myspace.com/objektivity