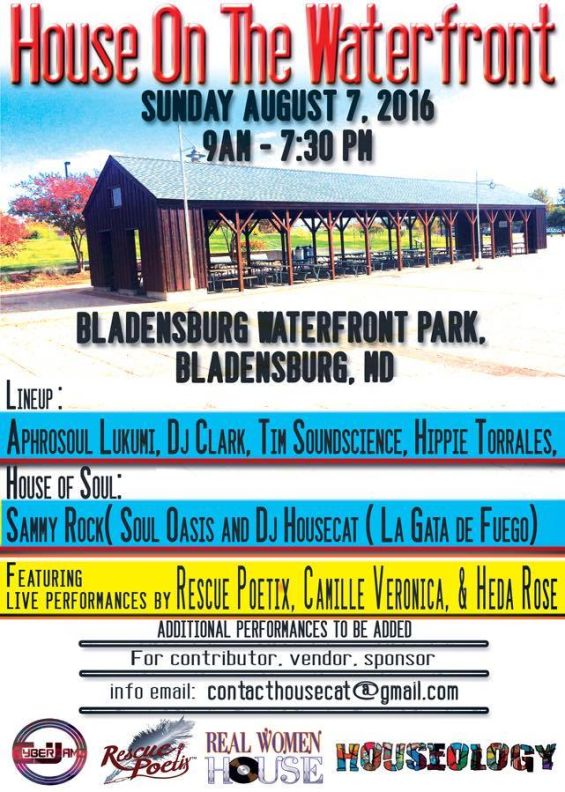 Cyberjamz Radio & Houseology are proud to announce our first annual House on the Waterfront going down Saturday Aug 7,2016 in Maryland.
This is our very first official outdoor event and we hope you guys can make it out.We will be offering a vendors marketplace with food and other merchandise located throughout the park.Also included are special family activities such as a physical fitness class, music and dancing lessons are among the many fun things that will be available.
Love bike riding ?
Bring your bicycle as the park trail will be open and if boating is your thing, then access to the Waterfront will also be provided for easy access to the dance floor area.
This event is going to be one for the books,so come on out as the music is going to be slamming !
What: 1st Annual House on the Waterfront
When: Sunday, August 7th, 2016, 9:00 am to 7:30pm
Where: Bladensburg Waterfront Park, Bladensburg MD
*If you would like to be a sponsor, vendor or contributor to this event, please contact Catherine Rowell
contacthousecat@gmail.com
Sponsored by Cyberjamz Internet Radio & Records, Toupee Records , HOUSEOLOGY, RescuePoetix ? Management & Real Woman House
Banner design by Jorge G Graphix ?
jorgegee@gmail.com
Music will be provided by the following programmers:
Houseology Squad :
Dj Dee Clark
Aphrosoul
Lukumi
Cyberjamz Radio/Records:
Tim Soundscience ? (Dj Sound Science ) ? D.C
The Legendary Hippie Torrales ? New Jersey
The House of Soul ? SammyRock aka Soul Oasis & DjHousecat (la gata de fuego) ? The World
Live PA :
Rescue Poetix(tm)
Camille Harris Veronica
Heda Rose
*Additional performances will be addeded
other links & Info:
The House of Soul w/SammyRock & DjHosuecat(la gata de fuego) air every Monday from 9am ? 2pm est USA time at
http://cyberjamz.com
Official House of Soul Podcast Page with free downloads:
http://souloasis.cyberjamz.com/
Cyberjamz Radio on FB
https://www.facebook.com/cyberJAMZ
Cyberjamz Records on FB
https://www.facebook.com/groups/cyberjamzrecords/
Toupee Records on FB ?DjHousecat(la gata de fuego)
https://www.facebook.com/groups/2100...42963/Official
Cyberjamz Radio & Records Music Group Page:
https://www.facebook.com/groups/cyberjamz/Cyberjamz
Radio & Records
Twitter:
https://twitter.com/souloasis1
or
https://twitter.com/_cyberJAMZ
booking and info
email
sammyrock@mail.com
or
contacthousecat@gmail.com