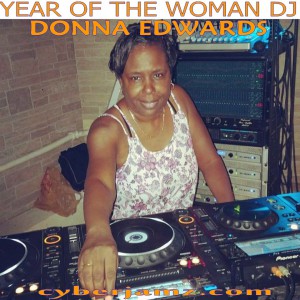 YESSSSSSSSSSSSSS!!!!!!!!
The Cyberjamz Radio Year of the Woman Music Series continues with the Legendary Donna Edwards..
This week we continue our all women music series featuring one of New York Cities best Miss Donna Edwards.Not only is she one of my closest friends but Donna was also one of the original Cyberjamz Radio broadcasters when we first took off back in circa 2003. Her famous ?Shades of Dance? brand has been consistent with her way of spinning ?quality? music and sets of which she has played all over the world. I'm crowning her ?legendary? as she has also played next to the very best male and female deejays in our industry.
We added ?some? of her bio which is quite extensive as she has been representing in our music community for a few decades.We hope you take a moment and read where she's been,where she is now and where Donna is heading.Check in this coming Thursday Feb 22,2018 from 3pm to 5pm est (USA time) and find out why she is one of the best in the game.
The rest of HerStory is here -->
http://bit.ly/2EDta5b
Cyberjamz Radio (since 2003)
http://cyberjamz.com