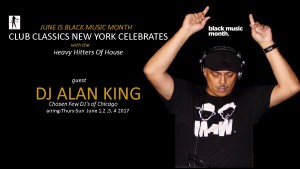 Ok.. we got high demand for this archive. so we decided to add it to the Podcast Page.
Stream or download Alan KingCast here -
http://souloasis.cyberjamz.com/?p=3801
This week we get a wonderful musical treat by Club Classics NYC feat Chosen few Own ? Alan King !
Hosted by Barry ?The Maestro? Mason & Lynn Lockamy.
This set features some lovey pieces mixed proper by Alan King.
Catch Club Classics NYC every Friday from 10pm ? 12 am est at Cyberjamz Internet Radio ?
http://cyberjamz.com
Info:
https://www.facebook.com/barry.mason.3597
CHOSEN FEW PICNIC & FESTIVAL LINE UP CHICAGO JUL 1+2
*CHICAGO?S ULTIMATE HOUSE MUSIC TOURIST ATTRACTION*
+++CLICK BELOW LINKS SPECIAL RATE HOTEL ROOMS ANY FESTIVAL ENTRY TICKETS/PACKAGES ++
https://m.facebook.com/notes/chosen-...6941576850054/
Tickets ?
https://wl.seetickets.us/event/Chose...flky=ChosenFew
Facebook info
https://www.facebook.com/events/278899799179492/
#chosenfesdjs #housemusic #jessesaunders #mikedunn #djalanking #electronicmusiccafe #housenhd #djtonyhatchett #jackyourbody
#musicandpower #rontrent #prescriptionrecords #SustenanceCommuniry #BrokenRecords #JesSayRecords #SoundscapeForum #MusicAndArtsSociety
Powered by Robbi Walcott - Robbi Promoter
https://www.facebook.com/groups/111643515536008/